10 Great Menu Board Ideas!
One of the best ways to get yourself into the habit of weekly meal planning is to hang a menu board in your kitchen. So to inspire you to get organized with your menu planning- here are 10 great menu board ideas! I hope that you find one that will work for you!
*Please note that some of the links in this post are affiliate links, which means I will make a small commission if you purchase through these links.
Magnetic Menu Planning Board
Of course, I am partial to this one, since it is my own menu planning board! What I love about it is that there are separate magnets for each dinner that my family loves, so planning the week is as simple as moving the magnets around.
At the bottom of the board, meals are organized into categories: beef, chicken, pasta/pizza, easy dinners, etc.- so I can easily see every possible option. This helps me to make sure that I am not repeating the same item over and over again.
You can see my tutorial on how to make my magnetic menu planning board here!
Wipe-Off Menu Board
Little Birdie Secrets shared a tutorial over on Make and Takes on how to create a beautiful yet simple menu planning board using a picture frame, a lovely piece of background paper and a dry erase marker. I love this menu board because absolutely anyone can create it. And it is super simple to use. And pretty! The one drawback is that this system requires you to remember all of the possible menu options to feed your family!
Index Card Menu Board
Here's a cool menu board that you can buy from JolieMaeCollections on Etsy or perhaps even create your own version using a wood plank, paint, and metal binder clips. I love the beautiful simplicity of the board itself, and the fact that you can choose your menu items from a stack of index cards that you've already written out. My only suggestion is that you might want to laminate the index cards so they last longer.
Chalkboard Painted Cabinet Door
I love, love, love this idea- painting the backs of your cabinet doors with chalkboard paint and using them for menu plans, grocery lists, and even inspirational quotes. Beautifully done by Life With Both Hands Full.
Chalkboard Fridge!
This is an awesome idea- especially if you have an older fridge in need of a makeover! Just paint the whole thing in chalkboard paint and use it as your menu planning board! A super cool idea from Genevieve Gail!
Framed Fabric and Scrapbook Paper Menu Board
This is a beautiful menu planning board created by Sane Simplicity. Made of fabric as well as scrapbook paper- it is lovely to look at! Just use a dry erase marker to write out your weekly meal plan, then wipe it off and start again.
Polka Dot Menu Board with Clips
I love this board from Etsy! This crafter has lots of different paper and pattern options to choose from- and they are each designed to hang on the fridge door with magnets!
Wood Framed Menu Board
This is a simple way to get started- simply hang this wood framed menu board on your kitchen wall and use these dry erase markers with magnetic caps to write out your menu plan.
Colorful Cookie Sheet Menu Board
I love this inexpensive ($3!) idea for creating a menu planning board out of scrap paper and a cookie sheet (to get the magnetic background). Anyone can do this- and it incorporates everything I think works best- the list of menu options is right there on the board, and it can hang right on your kitchen wall. Love it! From one of my favorite bloggers Beauty and Bedlam!
Printable Menu Board
This Etsy shop creates downloadable files that you can print, laminate, and put together your own beautiful weekly menu planning board!
Would you like to get organized?
Here are some more posts to inspire you:
Are you ready to get your life organized? Register for Busy Moms Boot Camp!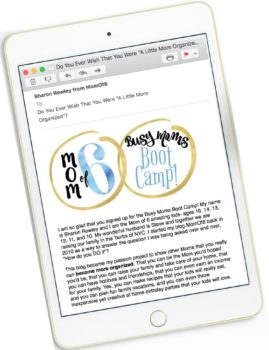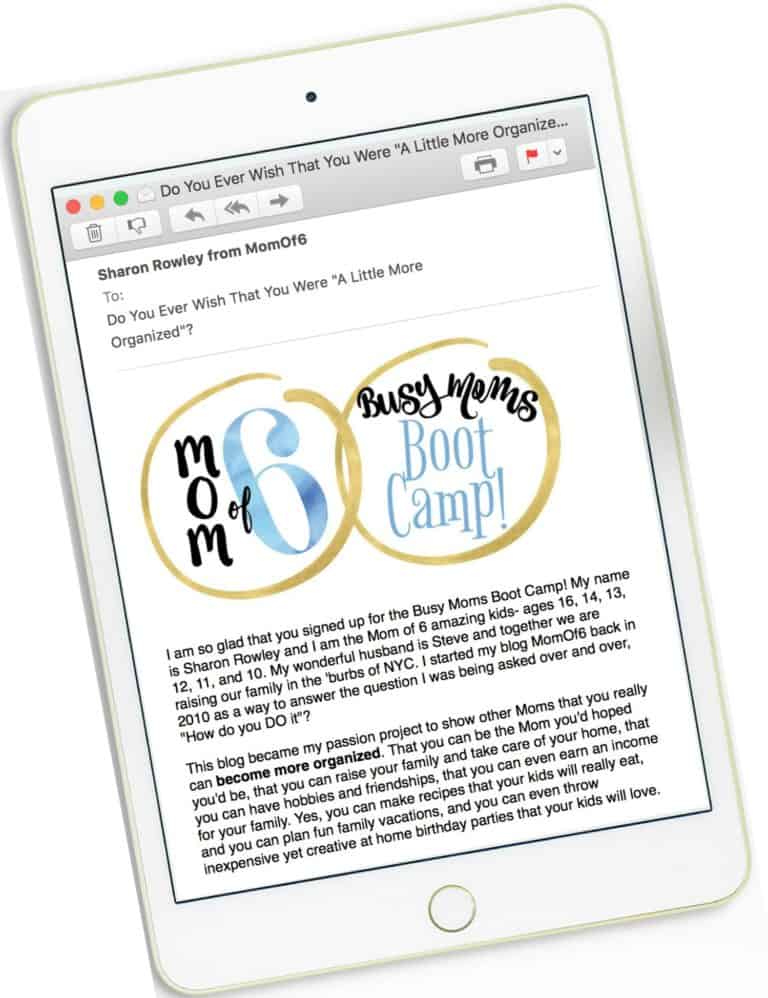 It's a free series of 10 weekly emails that can help you put some organization back in your life and help you to create room for all of those things that you'd like to be doing- whether that's making time to celebrate the little things with your family or carving out some space for yourself. Busy Moms Boot Camp can help you to move from chaos to organized! Simply sign up below to get started!
Do you use a menu board at your house?